Thanks to MamabearSarah, I went to Shutterfly and put together a wonderful Christmas card for all my friends and family (155 to be exact). I explained to her that I haven't been able to send Christmas cards since Kevin passed away in 2008. It just hasn't felt right. I haven't felt like we're a whole family.
I've always made a big deal out of our yearly cards. Usually, I would take a picture of the kids and dogs or the whole family. There's been many times they've all whined about having to get dressed up and smile non-stop for 30 minutes. I'm so glad I imposed my anal retention on them, because now we have some great family photos with our beloved Kevin for everlasting memories.
Last year I considered sending an old family photo in remembrance of him, but I was worried everyone would think I lost my marbles. However, when I read MamabearSarah's
recent post about her adorable card she made at Shutterfly
, I just had to steal her idea.
I decided to take pictures of me and the kids in black and white and use a color photo of Kevin. Inside, I put a personalized message that has become the essence of me. It has become a part of who I am. My mantra. I also added a special message that shows all I'm doing is trying to keep his memory alive. I'm not crazy. I know he died. I know he's no longer with us. I just want everyone to know that we love him more than words can say and we will never forget him. He was just too wonderful to ever forget.
If you're interested in making a beautiful card to send to your family and friends, just click the link below.
Happy Holidays to all my blog readers and may peace be with you this holiday season.
Copyright Jennifer M. Karn 2010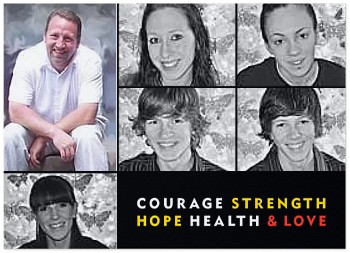 Courage Hope Love LIVESTRONG Holiday 5x7 folded card